In this ever evolving world of technology, businesses can trade with other businesses or consumers from any part of the world at whatever time, bringing more business opportunities.  Are you still wondering how E-Commerce can benefit you as a potential business owner or as an Offline business owner who wants to triple Return On Investment?
Being able to see how others have taken their ideas and turned them into successful eCommerce businesses or how they've grown their existing businesses is extremely valuable.
According to research done on SUMO, we'll share some incredibly inspiring eCommerce success stories that will encourage you to start or take your eCommerce business to the next level:
1. HOW BEARDBRAND TURNED A GROWING COMMUNITY INTO AN ECOMMERCE STORE WITH $20,000 IN SALES EVERY DAY
Eric Bandholz has an incredible beard. And his passion for facial hair has taken him, and his company, Beardbrand, on an unbelievable journey since the business was founded in 2012.
From humble beginnings as a YouTube channel and blog, Beardbrand has grown into a hugely successful eCommerce business making thousands of dollars in sales every single day.
As Eric created content about beard care, male grooming, and beard culture, he quickly realized the beard community had plenty of unmet grooming product needs.
So as all great entrepreneurs do, he set out to plug this gap in the market and Beardbrand was born. They launched their first grooming products in 2013; the catalyst was Bandholz's blog being featured in the New York Times.
Knowing they had this feature coming up, the Beardbrand team rallied to turn the blog into something more than a content hub and they managed to launch the Beardbrand online store one day before the article was published.
Since then, much of Beardbrand's success has come down to their laser focus on community, their vision, and messaging.
Their mission—"To Foster Confidence Through Grooming"—is featured front and center of their homepage
Beardbrand's reason for existence goes much deeper than that. First and foremost, the company wants to help men feel more confident in themselves and it just so happens that grooming products is one of the ways they do that.
Whether you're just starting out your eCommerce store or running a well-established eCommerce business, think carefully about "why" your business exists. Understanding this "why" and having a real mission behind your business will help you to connect with your customers and build true relationships.
2. HOW BUSHWICK KITCHEN USED PR TO GENERATE OVER $170,000 IN THEIR FIRST 12 MONTHS
What started out as a 30-day challenge between two friends: Morgen, an entrepreneur who founded Ideapaint and Casey, a food lover who wanted to create a hot sauce company, has blossomed into a highly successful eCommerce business.
The company started out as MixedMade in 2014 (it rebranded to Bushwick Kitchen in 2016) and in its first year, the company generated $170,000 in revenue from its one product at the time, Bees Knees Spicy Honey.[*]
How did Bushwick Kitchen grow from a 30-day experiment to $170,000 in sales in one year?
First, Morgen and Casey wanted to validate their idea before they invested in manufacturing and production costs.
To do this, they launched a simple website with:
Designs of what they thought the product would look like
A price, based on estimated costs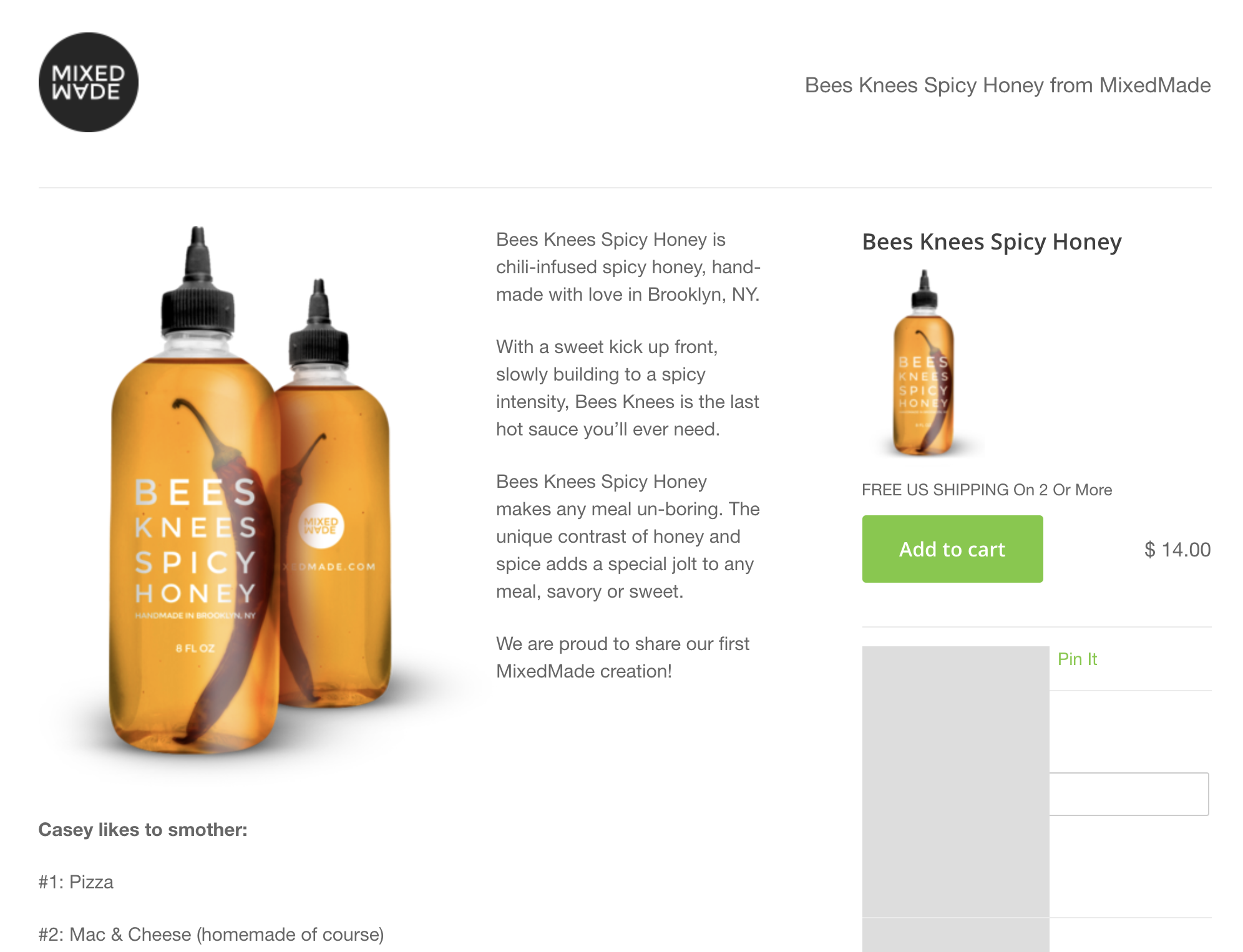 This simple sales page helped Morgen and Casey to pre-sell $525 of their spicy honey.[*]
With some initial sales in the bag, the duo began to produce the honey.
Then, to get a few extra sales and share his new adventure, Casey compiled a mailing list of 400 friends and contacts he'd picked up over the course of his career and sent out a message to them via email, which helped them get up to $1,000 in sales.
Here's a copy of the exact email Casey sent:[*]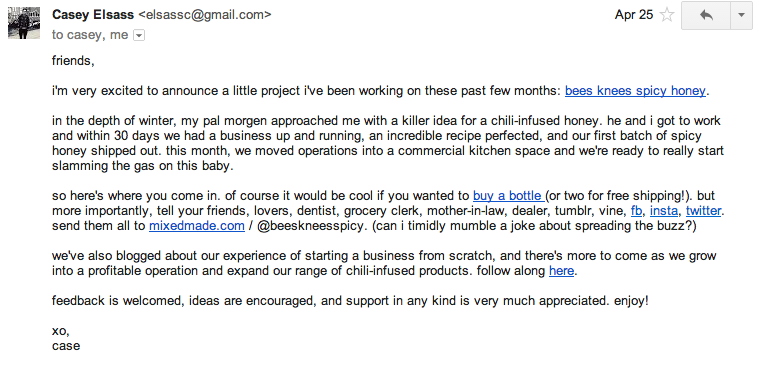 And once the first batches of the sauce had arrived, Morgen and Casey needed to really kick-start their growth. Their approach worked…
In August 2014, they sold 165 bottles of spicy honey. But in September that number grew over 500% to more than 840 bottles. The reason for this growth? Press coverage
So how did they manage this?
A lot of it came down to old-fashioned hard work. Casey would spend hours following every lead, building his network and reaching out to food writers, editors, and bloggers.
And once he had uncovered a contact he'd follow his simple three-step press plan:[*]
Build a relationship: Casey focused on building relationships with press contacts. Instead of going in and directly asking for coverage, he'd read and share their work, follow them on Twitter and try to create a genuine relationship.
Help them do their job: Journalists have tough jobs. They need to create compelling, interesting stories every single day. Instead of sharing some details and hoping they'd turn it into a story, Casey would provide each journalist with a few ready-made story ideas about Bushwick Kitchen, including some images and copy for each option.
Track and measure: Every form of marketing should be profitable. To ensure this, Casey used a CRM tool to track his relationships with influencers and writers as well as how much he'd spent on sending samples and the number of sales made by each piece of coverage. Casey used Zoho CRM to keep track of all press relationships and mentions and then it appears Shopify's analytics provided them with information on top referral traffic and sales.
TAKEAWAY: TARGET RELEVANT AUDIENCES IN PLACES THEY HANG OUT ONLINE
Any press coverage is great to get the word out about your business. But relevant press coverage will also help you to move the needle on sales and revenue.
3. HOW NEON POODLE EXPANDED ACROSS 3 CONTINENTS AND GREW REVENUE BY 232%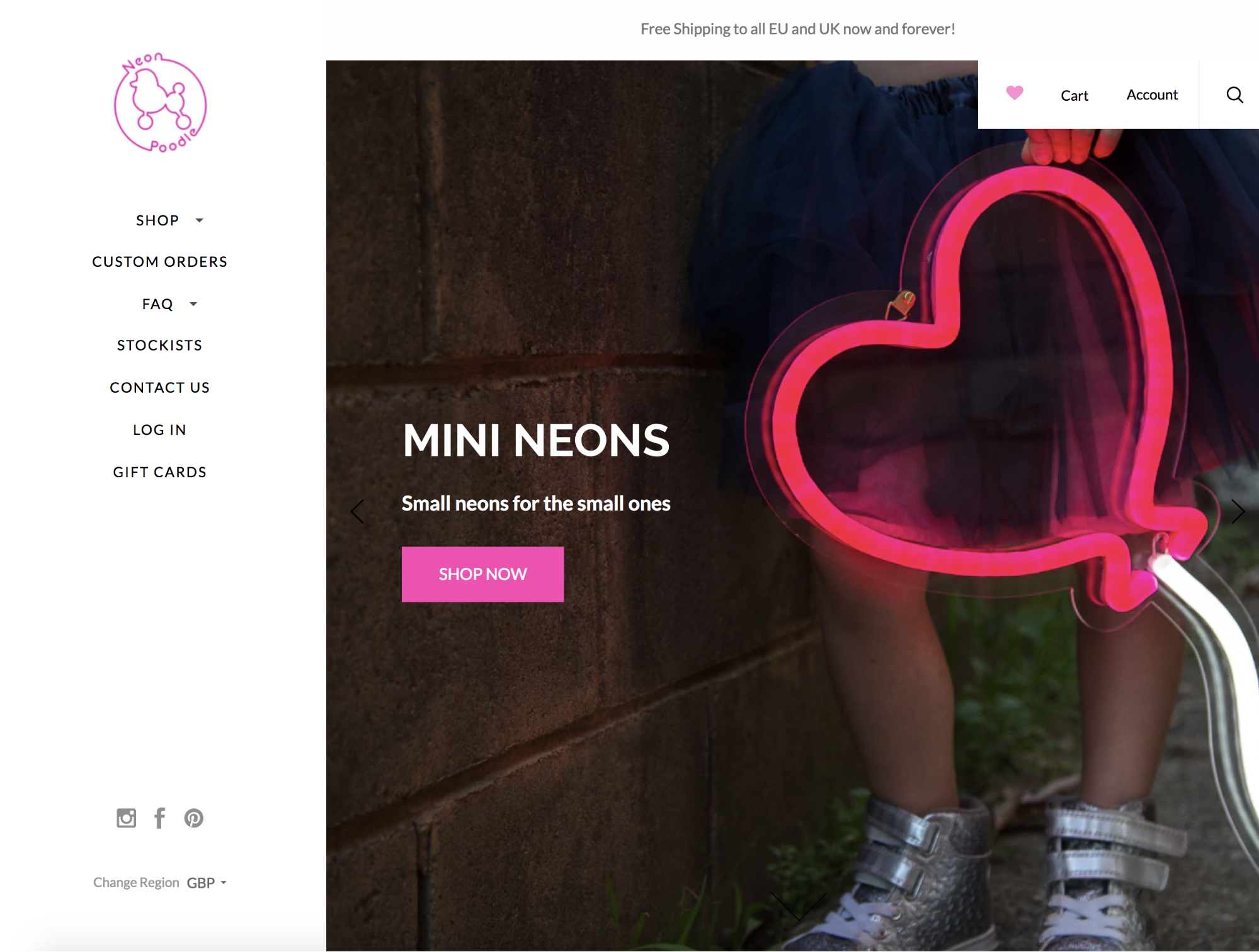 Neon Poodle was founded when Sammy Gibson wanted a customized, child-friendly neon sign for her daughter's bedroom.
After failing to find something suitable, Sammy scratched her entrepreneurial itch and decided to create her own neon signs that were:
Beautiful and simple to customize
Safe to be used in children's rooms
The result was Neon Poodle.
And in just three years, Neon Poodle became Australia's #1 eCommerce store for neon signs.[*]
But with the Australian market reaching a saturation point, the biggest challenge for Sammy and her co-founder (and husband), Jason, became how to continue their growth.
They decided to go international, expanding their store into Europe and North America.
The expansion into these two additional markets took around 18 months with many hurdles to jump. For example:
Finding couriers like ShipStation for U.S. orders and using Avalara for tax management across U.S. states
Setting up Stripe to handle international payments without additional fees and costs
Using BigCommerce to create dashboards for each country to manage and measure growth and sales in each location
But the results are astounding and prove that all Sammy and Jason's hard work has definitely paid off as Neon Poodle's revenue has grown by 232.14% since the international expansion.[*]
Lesson: Cast a wider net to boost growth
When you first start out, it's great to produce and sell products for a super-targeted niche group of customers.
This is exactly how Sammy started Neon Poodle… by selling custom neon signs to people in Australia.
But when you're ready, one of the best ways achieve growth is to expand your market.
One of the best examples of this is Facebook. It started out as a network purely for college students, but when it had saturated that market, it opened up to all users.
Using these three eCommerce success stories as inspiration, you can make this year your best year yet, whatever your goals:
Keen to build a loyal community and customer base? Focus on your mission like Beardbrand did with their mission "To Foster Confidence Through Grooming" to help groomsman invest in themselves.
Is content marketing under-performing for you? Create something unique and valuable for your customers like Beer Cartel did with their Australian Beer Craft Survey.
Want to increase word-of-mouth buzz around your brand? Make your product truly remarkable and give people a reason to share it with their friends like Traveller Collective did with "The Clip" and their engraved country rings. Or create a remarkable experience on your website like Sumo did with Cart Casino to make $100k in a day.
Need some more press mentions? Reach out to industry relevant influencers and journalists
Ready to grow your customer base? Try expanding your reach across states or go international like Neon Poodle did to expand from Australia into Europe and North America
MAKE THIS YEAR YOUR BEST ONE YET
Come and learn the "How" of E-Commerce for your business at the First E-Commerce Summit and Expo in Ibadan, Maybe next year we'll be writing about your very own eCommerce success story. Click here to know more and Register www.ecommerce.summitexpo.com.ng